Our society places a high value on looking young and fit. Today, men of all ages and all walks of life are requesting plastic surgery for cosmetic reasons. Men's goals include a more balanced nose, a rejuvenated face and a trimmer waistline. The procedures used to achieve these goals must take into consideration factors such as skin thickness, beard growth or body type.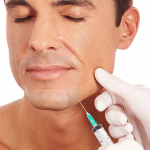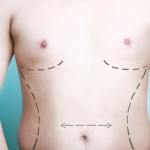 The ideal male body shape is considered to be trim and athletic looking, with broad shoulders and chest, a flat abdomen, and a narrow hip-thigh area. However, as men age, areas of fat tend to accumulate around the abdomen, the flanks, breast area and along the chin and neck.
Men sometimes seek liposuction to remove these fatty areas that are resistant to diet and exercise. In many cases, liposuction alone can effectively correct these problem areas. Men retain their skin elasticity longer than women do, and the areas of fat beneath the skin tend to be firmer and more vascular than those in women. Because of these and other factors, liposuction in men is usually very effective.
Men who have some loose, hanging skin as well as areas of excess fat may opt for a traditional excision procedure (surgical skin removal) in addition to liposuction. An excision may also be performed on gynaecomastia patients whose breast enlargement is made up of mostly glandular tissue, rather than fat.
A full abdominoplasty or "tummy tuck" may be chosen by men who have hanging abdominal skin (usually the result of massive weight loss), loose abdominal muscles, and/or neglected hernias. It is a major surgical procedure that removes excess fat, tightens the muscles of the abdominal wall, and trims the waistline. Men who have a full abdominoplasty are often surprised at the long recovery period.
Men with good skin elasticity who have only a moderate amount of excess abdominal fat may benefit from liposuction alone.
The days and weeks immediately following your surgery are critical to obtaining a good final result. Therefore, it's essential that you follow your post operative instructions including taking adequate time off work, wearing tight compression garments, getting enough rest, staying out of the sun, saying no to alcohol and cigarettes, and avoiding strenuous activity, exercise and sports and sex in the early postoperative period.
Gynaecomastia is a medical term for overly developed male breasts. Male breast reduction surgery removes fat and or glandular tissue from the breasts, and sometimes excess skin for an improved chest contour. For men who feel their breasts are too large, breast reduction surgery can offer a "more masculine" looking chest.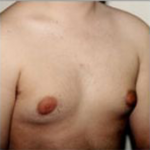 Before*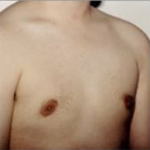 After*
Male breast reduction surgery may require a short hospital stay, though most are performed on an outpatient basis, allowing patients to return home the day of surgery.
During surgery, analgesia will be administered to ensure comfort. General anesthesia will most likely be used to allow you to sleep during the procedure.
For breast enlargement composed primarily of excess glandular tissue, the tissue may rarely be removed with a scalpel though curved incisions on the edge of the areola (the dark skin surrounding the nipple). For major reduction procedures, larger incisions may be needed. In most cases however, liposuction will be used to remove any excess fatty tissue as well as the glandular tissue. In these instances, the liposuction cannula will be inserted through a very small incision at the edge of the areola.
Gynaecomastia primarily caused by excessive fatty tissue requires smaller incisions to correct- less than a half-centimeter in length along the edge of the areola or on the breast fold. Through these incisions, Vaser ® liposelection will be performed to remove the fatty tissue using a slim tube called a cannula attached to a vacuum pump to break up and suction out excess breast fat. If a large amount of fat or glandular tissue is removed, excess skin may need to be removed as well to create a firm, flat contour.
At the end of your procedure, a small drain may be inserted to prevent the accumulation of excess fluids. The chest will be wrapped in a compression garment to keep the skin firmly in place.
Your chest will feel sore for a few days after surgery. This discomfort is generally well controlled with pain medications. You will need to have someone drive you home after surgery and to help you out for the first day or two. You will need to wear an elastic pressure garment for the first few weeks to reduce swelling in the chest. Though the swelling will go down greatly during the first few weeks, it may be months before the final results of your surgery emerge.
You will be encouraged to get up and walk around on the day of surgery. Non strenuous work can be resumed within one or two after surgery, though heavy exercise, including sexual activity, should be avoided for several weeks. Any stitches you have will be removed approximately 1 to 2 weeks after surgery. Sports or strenuous employment may need to be avoided for the first four weeks. After the first month, however, most patients are able to resume all of their normal activities.
Gynaecomastia surgery offers a high rate of patient satisfaction to those who go into it with realistic expectations. It can offer dramatic improvement to the contour of your chest creating a flatter, firmer look. The results of the procedure are generally permanent, though occasionally teen boys may need a second procedure later if the gynaecomastia returns.
For further information please read the post operative instructions and if you have further questions my staff or I are available to talk to you should you have any concerns.